Chores for two: Men pitch in
At home, guys are tackling more and more domestic duties.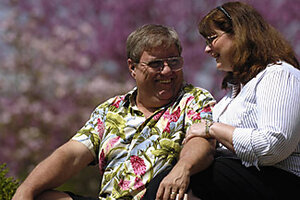 Andy Nelson – Staff
When domestic chores beckon – when there are dinners to cook, dishes to wash, diapers to change, and dust bunnies to chase – who's doing the work?
Increasingly the answer is: men. After decades of collective sighs from women that husbands and fathers aren't doing their part on the home front, old stereotypes are crumbling. More men are sharing housework and childcare, and doing it not grudgingly but willingly, according to a largely optimistic study released by the Council on Contemporary Families at the University of Illinois, Chicago.
"Men and women may not be fully equal yet, but the rules of the game have been profoundly and irreversibly changed," says Scott Coltrane, a sociologist at the University of California, Riverside, and coauthor of the study. This is true not only for younger couples who begin their relationship with more flexible ideas about gender, but also for older couples where the wife has worked long enough to change her husband's values and behavior. The longer a wife is employed, the more housework her husband does.
Since the 1960s, men's contribution to housework has doubled, increasing from about 15 percent to more than 30 percent of the total, the study reports. "Women are still doing twice as much as men, but it's very much more a partnership these days," Professor Coltrane says. Between 1965 and 2003, men also tripled the amount of time they spent caring for children.
---