Kids working for peace
For these kids, peace is about friendship, sharing, creativity, and much more.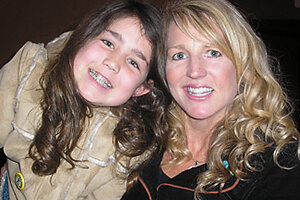 Courtesy of Kids for Peace
Hana Craft likes to sing, play the piano, and play sports at school. But at just 9 years old, she's also focused on making the world better. "Peace is important to me because when I grow up, I want my kids to live in a safe and kind world," she says.
Hana is an original member of Kids for Peace, an organization cofounded by her mom, Jill McManigal, and a local teen who's passionate about promoting peace. Kids in the group work to create a culture of peace, both locally and globally.
"Hana inspired me to start Kids for Peace. We were reflecting on the state of our world and all the violence and wanted to be part of the solution," says Ms. McManigal.
What peace means to kids
Several groups use the popular name, "Kids for Peace," but the chapters of this organization follow a mission of performing community service, participating in civic action, and creating art to contribute to a peaceful society at home and abroad.
Kids for Peace developed a peace pledge with six ways kids can create peace on their own. To read it, visit www.kidsforpeaceusa.org. The group also created a book of the children's drawings and statements about peace. It's called "Peace Through Our Eyes."
The original Kids for Peace began in Carlsbad, Calif., in 2006. Since then, the group has grown to 17 chapters across the United States.
---