Sole man
It's tough being a Shoe Guy. You love shoes but dislike most of the ones you see.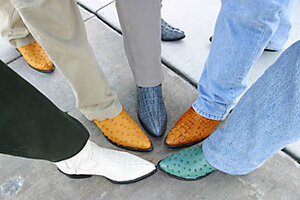 Gilles Mingasson/Getty Images/File
Things weren't always this way, me owning 30 pairs of shoes. But now I admit it: I'm a Shoe Guy.
I hoard shoes. I buy shoes I don't need. I buy shoes I don't necessarily want. I go out to buy milk and somehow come back with shoes. Who doesn't love a sale?
I notice people's shoes. I study them, subconsciously almost. For the 25 or so people I work with on a daily basis, I could tell you all about at least one pair of shoes each wears. There are Mike's gleaming white, over-50-and-on-a-cruise sneakers; Myra's I'm-athletic-yet-very-hip tracksters; Tony's cool-for-his-age Airwalks; and Wayne's New Balance athletic shoes (the hands-down brand leader for the over-45 crowd). I could go on.
Normally I just take notes in my head, keeping my mouth shut. But recently, a friend had gotten new shoes and asked me point-blank if I liked them. The truth: Not in a million years. Too much stitching, too dressy for jeans but not dressy enough for anything more. And stylewise, better suited for a man twice his age. It was a quandary I find myself in often: unable to give disingenuous compliments, yet incapable of offering a frank assessment. The best I could offer was that I didn't not like them. Even that left the metallic taste of insincerity in my mouth.
What I failed to mention to my friend in the waffling assessment of his footwear was that a day earlier, I had walked through a DSW store, interviewing hundreds of shoes, wishing desperately to leave with a pair. Even a hint of potential would have sold me. And not one shoe passed the test. But that's what it's like being a Shoe Guy. You're in love with shoes, but you dislike 95 percent of the ones you see.
---