A leg up on learning Chinese
One of the latest trends in American child care is Chinese au pairs.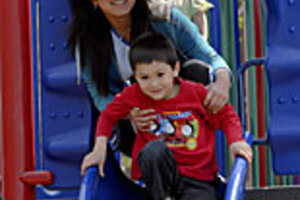 Dawn Villella/Special to The Christian Science Monitor
Once, French was the common tongue of diplomacy and commerce in an era of European world dominance. Then English took its place. As China expands its influence, many believe that Mandarin might one day become the new language of commerce.
Not least among these believers are American parents who are acting on their convictions by hiring au pairs from China to care for their children.
"I thought it would be very useful for him to be exposed to Chinese at an early age," Joseph Stocke, the managing director of an investment group in Chester County, Pa., says of his 2-year-old son. "I would at least like to give him the opportunity to leverage the language in the future."
So far the strategy is working. After only six months of being cared for by Wei Tang, a 25-year-old woman from Qingdao, China, whom Mr. Stocke found through Cultural Au Pair of Cambridge, Mass., the boy can already understand basic Chinese commands and recite numbers and greetings, his dad says.
That's what many parents hope for.
Au Pair in America in Stamford, Conn., has seen inquiries about and requests for Chinese au pairs surge from zero to around 4,000 since 2004.
---