Buried treasure: white asparagus
In Germany and the Netherlands, green asparagus plays second fiddle to the white kind.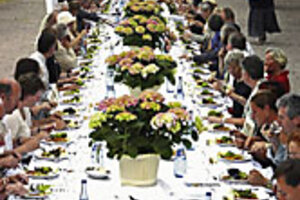 Courtesy of Castle Road Association
In Germany, white asparagus is a beloved culinary first crocus, its annual springtime arrival a cause for national rejoicing. In asparagus season – traditionally from late April to the end of June – most Germans will eat Spargel at least once a day, and restaurants serve it in many delicious forms – from soup to dessert.
During asparagus season, Spargelzeit, more than 70,000 tons of asparagus are consumed, virtually all of it white and most locally grown. Asparagus is cultivated in a number of places around the country, including Lower Saxony and Bavaria. But the general consensus is that the finest white asparagus comes from an area in Baden-Württemberg between Heidelberg and Mannheim known as the Asparagus Triangle, and centered on the aristocratic old town of Schwetzingen, which calls itself the Asparagus Capital of the World.
The soil in the area is what makes the difference. Light and sandy, it's ideal for mounding over asparagus beds to protect growing plants from direct exposure to the sun, which is what produces the chlorophyll that turns asparagus green. Green and white asparagus are genetically the same plant, but the white kind has a distinctive taste much appreciated by asparagus gourmets.
---