Hello, Russia! Can you hear us?
Thanks to a cellphone connection, two American boys are briefly transported across the world.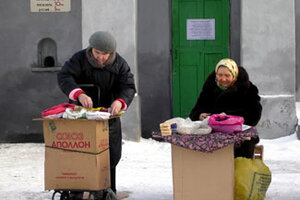 Courtesy of Jeannie J. Ferber
Almon is 13 and Frankie is 9 years old. Despite my repeating it for the third time, what the boys had done, the repairman was doing, and their mother would do wasn't sinking in. Almon and Frankie looked up from their textbooks and sighed. For three years the boys have been taking Russian lessons with me. This one, in conjugating verbs, was supposed to enable them to talk about all they do. For that to happen, however, it was clear I had to figure out fast what "to do" next.
It's not as if the brothers haven't accomplished much. In the grocery store they practice telling their mother that they need milk, eggs, cheese – and ice cream. They tell their puppy to sit, stay, and get off the bed in Russian. And, given their passion for trains, we play Russian Rails. The game enables them to journey through history and fulfill their home-school language requirement. As they've built their rail empires, they've also increased their vocabulary.
"Could we play the new game?" they asked.
What would it take, I wondered, to break open the real adventures that come with learning a language? We compromised.
The next week when the boys arrived, the game was set up on the table, along with Russian tea glasses and chocolates.
"If we were on a real train today," I explained, "this would be waiting for us in our compartment." I then described the etiquette and adventures of spending days in a cramped compartment with people you'd just met. At that moment, in fact, a Russian friend whom the boys love, was on one of the famed Trans-Siberian trains going from Moscow to Vladivostok. (Their "Uncle" Nikolai comes to America each year and is largely to thank for their learning Russian.)
---