Free-range kids
Are American parents raising children who are never allowed to take risks, or are they simply protecting them?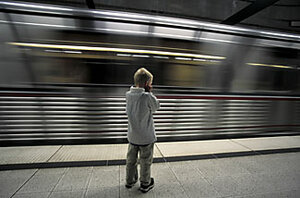 Todd Bigelow/Aurora/Getty images
When applied to poultry, the term "free range" evokes images of chickens running freely in wide-open spaces. When used to describe human offspring, the moniker "free-range kids" is intended to conjure up the same sort of unencumbered wandering with few boundaries.
For New York Sun columnist Lenore Skenazy, who coined the term in April, the idea blossomed after her decision to allow her 9-year-old son to ride the New York public transportation system – subway and crosstown bus – from Bloomingdale's in midtown Manhattan to her home just off 34th Street.
The humor writer penned a column regaling readers with her son's triumphant foray into independent urban living and was stunned to find herself at the center of a firestorm of controversy. Many people called her a threat to her child's safety. But, she says, more readers wrote in support of her desire to teach her child to be self-sufficient, so she and her husband decided to found a website (http://freerangekids.wordpress.com) to further the emerging dialogue.
---