The best way to scoot down the road
His love affair with motor scooters began in childhood.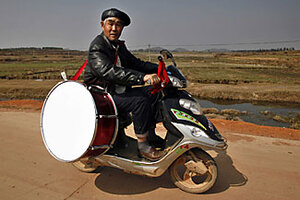 Nir Elias/Reuters
motor scooters! No, that's not an advertising statement, just a heartfelt sentiment from a longtime scooter lover, and it refers to those agile transporters – well known almost everywhere except North America – quietly going about their business at 70 or more miles per gallon of gasoline.
There are several important caveats, of course, about riding motor scooters: They're no-go in snow or ice, they can legally carry only two people or an equivalent load (in the United States), and defensive driving is the name of the game.
What makes scooters such excellent "second cars" is fantastic fuel economy, great visibility from the driver's seat, adequate power and brakes, and they are just plain fun to drive.
My love affair with scooters started when my grandpa had a Cushman scooter with a sidecar for a few months shortly after World War II. My rides in that sidecar were a thrill to a small boy and carried over into later life.
As an adult, I have joyfully owned two Vespas and two Honda scooters. I got started while stationed on the Japanese island of Okinawa. The time was late 1964. I was a newly commissioned second lieutenant in the Army, had little money, but needed "wheels" since our battalion was garrisoned in the middle of sugar cane fields at least 10 miles from officer habitations.
---