Who, him? He's my dad!
For kids: Some fathers in the animal kingdom are extra-devoted to their young.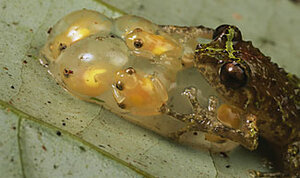 George Grall/National Geographic/Getty Images/File
Father's Day is right around the corner! Why not spark up your dad's greeting card by comparing him to a dad in the wild? How about this: "Happy Father's Day, Dad! We sure appreciate all the back-breaking work you do. You are just like a giant water bug."
Why would Dad appreciate this comparison? Well, it's true that many dads in the wild aren't involved with parenting, but there are some – like the giant water bug – that work pretty hard to get their little ones off to a good start. Take a peek at what some devoted animal fathers do to help raise their young. Maybe you'll find one that reminds you of your dad!
Giant water bug – This father might feel like he's got a lot on his back, but he doesn't seem to mind. The female sticks eggs to the back of the male, then leaves. "Roughly 100 to 150 eggs can be carried by the male, for one to two weeks until they hatch," says Laura Jesse of the Plant and Insect Diagnostic Clinic at Iowa State University.
Dad's egg duties include jumping around to circulate air on the growing eggs and making sure they get water. All this time Dad can't fly, due to the weight of the rapidly growing eggs. Now that's one bogged-down but dedicated dad.
Stickleback fish – The male of this species puts a little bit of himself into building a home for his young. At mating time, he uses his mouth to build a nest using bits of plants and glues it together with a sticky material that he creates from his kidneys, says Chris Leahy, a naturalist at the Massachusetts Audubon Society.
---