How do you say 'gooey brownies'?
My Korean ESL class gobbled up their underbaked treat.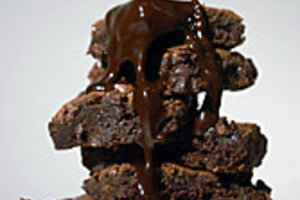 Mark Thomson
I promised my class of 11-year-old Koreans that I would bake them a treat for memorizing how to introduce themselves.
They can now say in English: "Hello, my name is ... (they fill in their Korean name), but you can call me ... (American name). I am ... years old. I come from Yang Ju, South Korea. I like ... ('computer games' is the most popular response. Others include 'basketball,' 'pizza,' 'my family,' and 'to read a book'). It's very nice to meet you."
Baking American treats was something I had anticipated doing for students when I came to South Korea to teach English as a second language (ESL), so it came as a surprise to find that my apartment did not come furnished with an oven. Instead, apartments typically include a two-burner gas stovetop, a microwave, and a refrigerator.
And since a microwave is simply a defroster to me, the solution I found for the baking problem turned out to be to buy a tabletop convection oven. It was on sale in Seoul and after much discussion, the sales clerk and manager at the megastore there agreed it could be delivered to Yang Ju (an hour north of Seoul). With serious faces that indicated that they were pretty sure the sale would tank when the customer was faced with a hefty delivery charge, they told me it would cost an additional ... $7. The last delivery I had in the United States from a store in Nashville to Cookeville (pretty close to the same distance as Seoul is from Yang Ju) cost $150. The oven arrived two days later.
---