Dad's Hawaiian shirts
Giving away the clothes didn't mean letting go of the memories they held.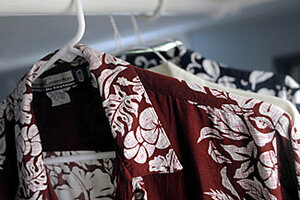 Mark Thomson
My dad, Russell Robbins, was one fun guy. Along with his compassion, intelligence, and thoughtfulness toward others, he had a fantastic sense of humor. He found joy in so many aspects of life. One thing he loved was his Hawaiian shirts. We lived in Hawaii for a year when I was young, and my dad was very happy there. As a lawyer, he enjoyed the relaxed dress code where he could show up to court in khaki pants and a Hawaiian button-down shirt.
Even after we moved back to California, my dad continued to collect Hawaiian shirts. He observed the Hawaiian tradition of casual Fridays, referred to on the islands as "Aloha Friday." His shirts weren't tacky, either. They were colorful and fun but also tasteful. My personal favorite was his red shirt with sailboats on it, especially since sailing was another of his passions.
My dad passed on during the fall of my sophomore year in high school. That January, I flew to another state to visit a family for whom I had baby-sat since junior high. I had watched the two boys grow up, and I was very close to their mom, Sarah. I had also spent time with their dad, Carl, through my weekly baby-sitting and by spending a few weeks each summer with them at their cabin at Lake Tahoe.
It had been a rough couple of months for me since losing my dad. It was nice to visit their family and feel at home with them. Before I left, Carl pulled me aside. He told me that if I ever needed anything, I should never hesitate to call him. I was touched by his offer and felt strengthened knowing there was someone else supporting me.
---