Dad's museum mania
On each museum trip, my sister and I were handed a quiz. If we did well, we got ice cream.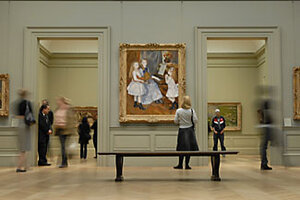 Mary Knox Merrill – Staff/File
Most people go to a museum and just kind of window shop, strolling casually past portraits of 13th-century queens, old hunting rifles, and decaying remains of clothing worn by royals. Some people take photos instead of really looking. Others can't help but defy "do not touch." And then there are the sleepers.
Once, during a movie at the Air and Space Museum in Washington, D.C., I thought that a man's snoring was actually the sound of an airplane taking off. But the snorer wasn't missing much – his wife was recording the entire film on a camcorder. Besides, I'd rather visit a museum with a snorer than with the kind of person my father is: a devoted learner.
To my father, skimming is a dirty word. He treats everything in a museum as if it were Magna Carta. He can stand for hours rocking back and forth on the heels of his appropriately named Rockport boots, studying museum plaques and posters on anything from Civil War battlefields to anthropology.
A museum is to my father what football is to normal fathers. He can't get enough. While other fathers are exclaiming over touchdowns and fumble recoveries, my father is spitting out statistics on everything from Monet to Mount St. Helens. If he were going to be a contestant on "Jeopardy," it wouldn't be so bad. But he does it out of a genuine love of learning. And that's embarrassing to a kid.
During lunch breaks from his banking job at Northern Trust in Chicago, he'd go to museums, write down facts from the exhibits, and turn them into questions my younger sister and I had to answer.
---