For kids: Look at that moth!
Meet a man who raises cecropia moths, one of the largest species in North America.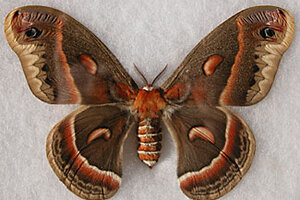 Courtesy of Art Good
Have you ever experienced a very special moment that you still remember? Art Good has, and it changed his life. It happened when he was 6 years old – the day he discovered a big, beautiful cecropia moth.
As he was poking around in a wooded area behind his family's house, Mr. Good found the cocoon containing what would become a stunning creature.
"I didn't know what would emerge," he says. "I took it home out of pure curiosity. I put it in a desk drawer and kind of forgot about it." A month later, he discovered the just-emerged cecropia moth in that drawer.
"I opened this drawer and here was the most beautiful thing I ever did see," he says. "I remember it. It was after supper, and I had to go out and get something out of the drawer. That was just one of those moments."
More than 50 years have passed since then, and Mr. Good is still awed by cecropia moths. In fact, his interest in the insects is so great that he has spent more than 20 years raising and selling cecropia cocoons through his business, Cocoons for Kids.
He started his Cleveland-area company so that young people would have the same opportunity that he had to experience the wonder of nature.
More recently, he has explored how silk from the moth cocoons could be spun into thread for weaving.
It took Mr. Good 15 years to figure out how to raise cecropias through their four-stage metamorphosis – egg, larva, pupa, and adult – and keep them safe, but he finally did it.
Cocoons in the classroom
---