'What's a slave, Mommy?'
A little boy learns about racism – and responds with love.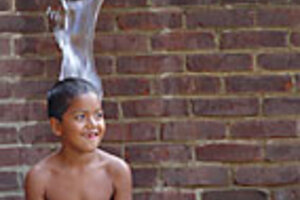 Skila Brown
I'm sure that a better parent puts some thought into how to explain racism to his or her child. But for me, I didn't have time to decide. With a thump, my 6-year-old handed me the picture book about Martin Luther King Jr. and plopped down next to me on the couch. "Read this one, Mommy," he said simply. Then he looked up at me with his big brown eyes and watched me take a deep breath.
I read the words of Dr. King's famous "I Have a Dream" speech. Those words flowed from my lips like a potent syrup. I could feel my throat tighten and my eyes burn as I listened to my voice echo in our family room, imagining King's voice echoing over the speakers as people soaked up his powerful truth.
The words, in all of their grown-up ease, did a dance over my son's head. He couldn't understand what King was saying. But he did understand that it was strong. His face dropped into a silent somber pose as he looked up at me, eyes widening, searching for the tears that he heard in my heart.
And the pictures: powerful artwork depicting the abuse and injustice suffered by black people over the years. My son absorbed it all. When he asked me to explain each one, I sighed. Oh, how I wanted to shield his heart from this. He seemed way too young to realize that the world isn't all Transformers and baseball. But I spoke the truth. I plainly told what was happening in each painting.
"That man was a slave."
"What's a slave?" he asked.
"It means he couldn't go to school or own a house or take a vacation. It means that he had to do what someone else, someone with lighter skin, told him to do. He had to work very hard all day and never got paid for it."
---