What a good idea!
For kids: These student designers invented simple solutions to everyday problems.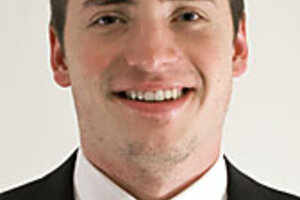 Courtesy of Richard Hagee
A winning way to store fruit
For first-place winner Sarah O'Brien, inspiration came from spoiled peaches. She would bring them to school for a snack, but by the time she was ready to eat them, they were soft and bruised. Ethylene gas was partly to blame. That's a substance emitted by fruit when it begins to spoil. It causes other pieces of nearby fruit to ripen faster.
So Sarah came up with an idea: A fruit bowl with compartments for each piece of fruit that would minimize bruising and diminish the transfer of ethylene gas to other fruit. She named it "Elizabowl" because it resembles the ruffled collars worn during the Elizabethan era. When you take out a piece a fruit, its compartment folds up, just like the ruffles of those collars.
"I was trying to figure out a way to make something that was designed to look good full or empty," says Sarah, a graduate of the University of Louisiana. "Everything is being showcased. You don't have that surprise rotten fruit hidden at the bottom of the bowl."
Sarah spent weeks making sketches and models. A friend even helped her measure fruit at the grocery store. Her love of origami helped her think through the collapsible folds. "My dad used to work in Japan, and he would bring me back origami books," she says. "One year, we didn't have a Christmas tree at home, so I made a giant Christmas tree out of origami, with origami ornaments to put on it."
Her advice for young designers is to let their product's form follow its function. "I try to follow the problem … and I never know what it's going to look like. I know I've solved it when I like the way it looks."
Easier kitchen cleanup
---