Welcomed to Tasha Tudor's world
As I got to know Tasha, I discovered that her most remarkable creation was her life.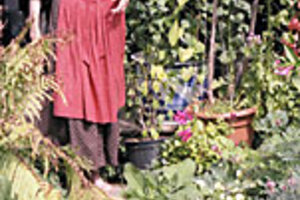 Richard Brown/AP
In my garden, a lettuce poppy opened the week Tasha Tudor passed away. The buds unfolded into a fluffy mop, the same color as the Pink Luster china from which Tasha sipped tea. She had given me the poppy seeds from her garden several years ago and recommended "shaking them about like pepper." Such a comment was characteristic of Tasha, an artist who sculpted her own world.
I discovered her illustrations as a young reader. At our Carnegie library, I dragged over a tiny chair, stepped up, and pulled one picture book after another off the top shelves, slowly working my way through the stacks. I searched for those simple, delicate watercolors of barefoot girls in long dresses toasting apples by a fire or riding home on a loaded hay wagon. And at Christmas, I sifted through the cards that arrived, hoping to find one with a Tasha Tudor drawing depicting children from a bygone era arranging a crèche, or mice and rabbits gazing at a decorated pine tree.
As my reading skills improved, I was thrilled to find that she had also illustrated chapter books. Repeatedly, I checked out "A Little Princess" and "The Secret Garden." I longed to step into those watercolors and share tea with Sara, or help Mary and Dickon transplant roses. When a best friend received a signed copy of "A Little Princess," I realized that illustrators were real people who gave book tours and talked to audiences.
I vowed that one day I would meet the woman whose paintings not only told stories but also drew the readers into scenes of simple pleasures such as decorating valentines or spying a flotilla of candles escorting a birthday cake down a river. And who was this person whose imagination created that romantic world?
Finally, years later on a dreary November afternoon, I met Tasha at a book signing, and because I had helped prepare for the event, I was invited to a special tea for the volunteers. Tasha and I chatted, comparing details about our farms and our love of spinning, gardening, and reading. Impetuously, she took my hands.
"You must come visit me in Vermont," she said. "We must become friends."
"Thank you," I said, feeling as if I were Cinderella, holding hands with a fairy godmother. All winter, I dreamed of the upcoming visit.
---