Eye to beak with a red-footed boobie!
For kids: Researchers 'rough it' in the wilderness to learn more about the wildlife on tiny Palmyra Atoll in the Pacific Ocean.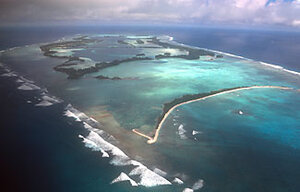 Courtesy of Rob Shallenberger/The Nature Conservancy
There are many special places on our planet that need protection. Palmyra Atoll, a speck of land lying in the middle of the Pacific Ocean about 1,000 miles south of Hawaii, is one of them. It is home to an abundant variety of animals that scientists are now studying.
A Hawaiian king claimed Palmyra in the 19th century, and the atoll became part of US territory when Hawaii was annexed in 1898. Eight years ago, Palmyra was purchased by the Nature Conservancy, an environmental organization that now manages and helps protect the atoll in conjunction with the US Fish and Wildlife Service.
Like most atolls, Palmyra consists of a lagoon surrounded by numerous small islands called islets. With an area of just 230 acres – barely a quarter the size of New York City's Central Park – densely forested Cooper Island is the largest of Palmyra's 50 islets and serves as base camp for visitors, such as chef Michèle Gentille. Ms. Gentille, who lives in New York, arrived on Palmyra in March to cook for the half-dozen researchers, staff, and volunteers currently working there.
"It's lush with life here," says Ms. Gentille, from her computer-linked satellite phone on Palmyra. "Birds are everywhere, hermit crabs crawl all over the ground, and the water is teaming with fish. The island feels like a living entity."
Much of Palmyra's life originates in its warm, shallow, tropical waters and coral reefs that are home to threatened green sea turtles, pilot whales, bottle-nosed dolphin, numerous fish and shark species, giant clams, and manta rays.
---
Follow Stories Like This
Get the Monitor stories you care about delivered to your inbox.