A bluebird summer
Monitoring the bluebird population nearby was just the sort of volunteer work I was looking for.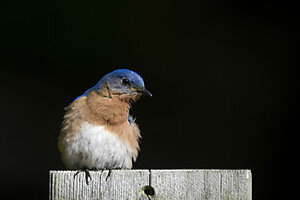 Douglas Graham/WLPInc./Newscom
This summer finds me a self-designated godmother to a slowly increasing number of fledgling eastern bluebirds – 10 and counting. Witnessing the mysterious progression of birth and growth is inspiring – starting from the first glimpse of pale blue eggs in a perfect pine needle nest to newly hatched bundles of pink-gray skin to young birds sporting pin feathers and comically contrasting yellow, liplike bills. These little creatures will become those special birds splashed in lapis lazuli blue – a species loved by almost everyone.
During spring, I worried about cold weather and rain, and now that it's summer, I get concerned about heat and snakes. I question the motives of blue jays flying overhead (they're known to snack on young bluebirds). House wrens set me on edge (they destroy bluebird eggs and take over their nest sites).
In fact, since I've jumped into a bluebird monitoring project with Ken Leister, the Chester County coordinator for the Bluebird Society of Pennsylvania, I'm more attuned to the threats these babies face. Ken, a semiretired supervisor of specialty construction projects, builds bluebird boxes from scrap cedar planks the way some people whip up batches of chocolate-chip cookies.
After reading about Ken's bluebird project in a township newsletter last spring, I decided to help him put up 14 bluebird boxes in a park near my house and monitor bluebird nesting through three spring/summer nesting cycles. I'd been looking for just this sort of volunteer assignment, something positive I could do in southeastern Pennsylvania where suburban sprawl has eliminated many suitable bluebird nesting sites.
---