For kids: The grunion are running
A cooperative effort between two aquariums allows people in France to watch in real time as grunion spawn on southern California beaches.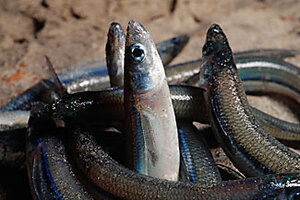 NEWSCOM
"Water, water, water," yells Mike Schaadt, director of Cabrillo Marine Aquarium in Los Angeles. He scrambles backward in the sand, away from an incoming wave on Cabrillo Beach. "I'll try not to drop you in the water, Stéphane," he says to a man's image on a laptop he's holding by a strap in his left hand. In his right hand, Mr. Schaadt has a wooden pole with an antenna attached to it.
Next to him, Ed Mastro, exhibits director of the aquarium, aims a small video camera at hundreds of silver fish wriggling on the beach, where they have come to deposit their eggs. The fish are small, about five to six inches long, and their slender bodies shimmer in the moonlight as they ride the surf onto the sand.
It's a grunion run, and almost 300 people have gathered on Cabrillo Beach in San Pedro, Calif., to watch this spawning ritual late on a Wednesday night. Stéphane Henard, the man on the laptop, is watching, too, but from a beach thousands of miles away in Boulogne, France. Mr. Henard, director of NAUSICAÄ, the French National Sea Experience Centre, is watching a live webcast of the grunion on his computer.
---