Dear Nia Vardalos, about those columns
A moviegoer hopes that in Nia Vardalos's latest film, she will correct a mistake about the Parthenon's columns.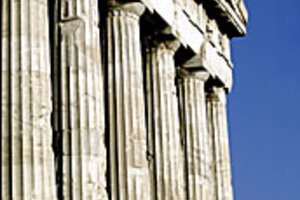 John Kolesidis/Reuters/file
For a long time, I have been fascinated with ancient Greece – its history, its playwrights and poets, its mythology, its architecture.
So in the 2002 movie, "My Big Fat Greek Wedding," when Toula Portokalos (played by Nia Vardalos) describes her family's house as being like the Parthenon, complete with Corinthian columns, I was taken aback. Yes, the house did have Corinthian columns on the first level and Ionic ones on the upper story, but the Parthenon has neither. Its columns are Doric.
Maybe nobody else who has seen this romantic comedy noticed the mistake, but it distracted me from fully enjoying the delightful film. As a retired teacher, I have strong feelings about the importance of presenting accurate facts.
And I'm not the only one. For example, when publications give wrong information, they quickly print a correction.
But is there anything to do about mistakes in movies?
Well, I felt I had to write to Ms. Vardalos, who wrote the script for the movie, in a matter-of-fact way and mention the columns. Perhaps not surprisingly, I never received a reply. Maybe she thought I was being petty or that my concern about historical accuracy wasn't all that important in her film.
But last fall in Athens, I was atop the Acropolis at the same time as she was. An American film studio was shooting a new movie there., ("My Life in Ruins" will open Aug. 28.).
---