Teachers learn new things at camp, too
The answer to a common question reveals much about a troubled boy.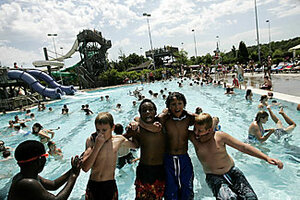 ZUMA/NEWSCOM/file
The highlight of each school year for the fifth-graders I teach is a week-long science camp. They get to dissect squid, observe elephant seals, hike in the woods, learn about varied environments, and live in cabins.
It starts with a nearly 300-mile bus trip to the camp in San Luis Obispo, Calif., a verdant, hilly place that's a far cry from the violence and despair that are the norm in the small agricultural town my predominantly Latino kids grow up in.
Most kids go. I have to convince a few parents their kiddos will be safe. Then there are the one or two that I'd like to stay home, like Rufus.
Kids that I don't want to go are usually the ones who need to come the most. Over the years they've tended to be the most desperate, the neediest, the ones who, sorry to say, are statistically most inclined to end up where their parents are – behind bars. Fifty percent of my kids visit family members in prison or jail. That is a staggering number.
Rufus missed an unbelievable 40 days of school this year and was tardy another 18. His dad is incarcerated and his mom, who sometimes seems barely functional, drives Rufus and his older brother to school when she can or feels like it.
In class, Rufus is inattentive, angry, and unresponsive. He lies, steals, and talks back.
He's not the only one. But he easily stands head and shoulders above the other challenged kids.
I didn't want him to come because over the years I've seen it all at camp. Kids have dialed 911, stolen food, smashed lights, and worse. And the perpetrators are always the troubled boys, like Rufus.
---