Surprises on the school supplies list
A retired teacher muses about the quantity of items her grandchildren are required to bring to school.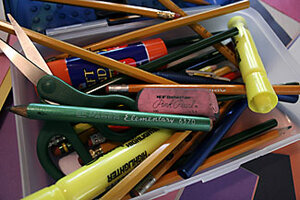 Stace Maude/AP
Years ago when I was in grade school, classes began the Tuesday after Labor Day. Mom would take me shopping after I arrived home from school the first day because teachers didn't give out supply lists in advance.
All of our purchases would fit easily into a small, handheld shopping basket: a half dozen No. 2 pencils with erasers, a separate pink eraser, a box of short colored pencils (used for maps in geography), a wooden ruler, a three-ring notebook (mine was a hard one covered with a blue weblike cloth), a sturdy cardboard pencil box, wide-lined notebook paper, white gummed reinforcers (licking required), a jar of white paste with a brush inside the lid, and a small box of crayons.
The list was pretty much the same until sixth grade, when a fountain (not ballpoint) pen was required.
The variety store where I shopped for school supplies has long been out of business. But on a recent August Saturday before classes began on Monday, Office Depot was crowded.
Parents wheeled shopping carts full of school supplies: highlighters, multicolored self-sticking reinforcers, vibrant backpacks unlike the unimaginative school satchels students carried long ago, organizational calendars, cellophane-wrapped packs of colored index cards, and a rainbow of Post-it notes. I gasped when I overheard the amount of one father's bill: $86.10.
When I got back home, I became curious about the supplies my grandchildren (a first-grader and a fourth-grader) had been asked to bring to school this year, so I asked to see their lists.
What I hadn't expected was the comment at the top: "Everything's communal!!!!" As a retired elementary teacher, that surprised me. For 31 years, the only shared item on the lists I sent was a box of Kleenex. Everything else was for students' individual use.
---