The rewards of second best
Picking yourself up after a defeat is also an important win.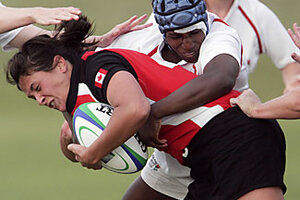 CP, Ian Jackson
My earliest memory of my niece Megan is as a 4-year-old at Happy Hollow Park in San Jose, Calif., running with her golden curls streaming behind her, jumping from the highest jungle gym and landing right on her feet. One of my more recent memories is when I watched Megan play for the University of California Santa Cruz club team in the National Women's Division II Rugby Championship in 2007. The Banana Slugs took second place, but that's just part of the story.
Megan was a lifelong soccer player, and a good one. Soccer is serious business in the San Ramon Valley east of San Francisco, where she grew up. Parents keep their kids home on Friday nights as early as grade school so that they will give their best performances on the soccer field on Saturday mornings.
Megan, however, went to slumber parties. My brother and sister-in-law believed in childhood and believed that sports are about fun. This philosophy was part common sense, part experience. My brother had close friends who were football recruits, and he had watched their disappointment after they took free rides on football scholarships and were treated like bartered property in the high stakes of collegiate sports.
---