Baby sea turtles – off to a good start
For kids: On Mexico's Pacific Coast, visitors help save a threatened species.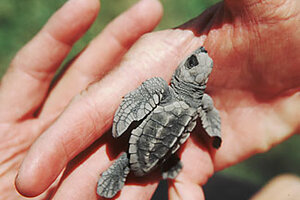 Sherry Shahan
Eréndira González Diego, founder of the Turtle Sanctuary at Estrella del Mar Golf and Beach Resort in Mazatlán, Mexico, steps from the cluster of stucco buildings a shell's throw from the beach. The sanctuary invites visitors of all ages to participate in an ongoing program to protect the threatened olive ridley sea turtles that nest each year on the beach at the resort.
Dr. González greets fifth- and sixth-grade students on a field trip from a private school in Mazatlán. Families staying at the sprawling resort join them, gathering around a wading pool where a pair of sea turtles recovering from injury swim freely.
"Not every egg in a nest hatches," says the marine biologist, holding up a small jar of eggs. They look like ping-pong balls in color, size, and shape. Guests listen attentively while she explains the importance of protecting the turtles. A resort employee interprets for those who don't speak Spanish.
Although the olive ridley is the most abundant sea turtle in the world – with about 800,000 nesting females per year – it's considered vulnerable by the World Conservation Union. Prior to 1950, an estimated 10 million ridleys nested on the Pacific Coast of Mexico.
In the '60s, however, nesting females and eggs were taken for food, a practice that devastated the population. Fortunately, it's now illegal to possess turtle eggs and any type of turtle parts. State police patrol the beaches to make sure poachers don't steal eggs.
Chillin' out until time to hatch
After her brief lecture, Dr. González leads everyone into her lab, where hundreds of white coolers are stacked on shelves, floor to ceiling. When the sanctuary first opened in 1998, she recruited volunteers to dig up eggs and rebury them in safer places on the beach – places easier to protect from poachers. Sadly, a lot of eggs still didn't hatch because it was impossible to control weather and temperature. Some eggs shriveled up from too much heat or developed fungus from lengthy days of rain.
---