Following the footsteps of Flannery O'Connor
On this vacation, he and his wife are visiting the stomping grounds of great writers.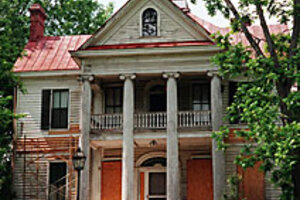 Thomas Swick/Fort Lauderdale Sun Sentinel/Newscom/File
The vicarious experiences that literary creation offers are unquestionably compelling. Naturally, travelers want to visit the locations where it took place.
Which is why my wife and I find ourselves in Milledgeville, Ga., halfway between the Atlanta airport and our destination, Savannah. Literary tourists know that the late Flannery O'Connor, a splendid novelist and short-story writer, did her best work here.
I had not read any O'Connor for years. But the opportunity to spend a night in Milledgeville caused me to borrow a library copy of "The Complete Stories."
O'Connor's output was not large: two novels and two volumes of short stories, the last volume published after her death in 1964. She's something of an acquired taste: acute insights, penetrating and often humorous observations. Still her characters run to the grotesque. Her stories often jolt even shockproof 21st-century readers.
Arriving, we pass Andalusia, the farm where O'Connor lived for many years. Her widowed mother managed the place.
We walk around the town's historic district, absorbing its atmosphere as O'Connor did when her parents took refuge here from Depression-era hard times, moving inland from Savannah, where O'Connor was born.
Attending Milledgeville's Georgia State College for Women, now coed and called Georgia College and State University (GCSU), O'Connor steeped herself in that atmosphere. After graduating, she was accepted to the Iowa Writers' Workshop where, so the story goes, she had a Georgia accent so thick and word choices so down-home that her professor could not understand her. She had to write out what she was saying.
---