The appeal of 'Anne' – 100 years later
For kids: A century after 'Anne of Green Gables' was written, people all over the world still love the book and its spunky main character.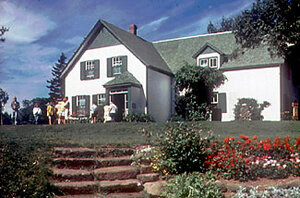 Heather Taweel/Charlottetown Guardian/AP/FILE
Have you ever read the story of a little red-headed orphan who daydreamed and made mischief wherever she went? Who was embarrassed by the awful clothes she had to wear? Who loved the outdoors and named a grove of spruce trees, "The Haunted Wood"?
Can you guess this character's name? If you've read the book, "Anne of Green Gables," by Lucy Maud Montgomery, then you know that the little girl is called Anne Shirley.
Meet Anne
If you haven't read the book, you might wonder just who this famous Anne character is. For starters, Anne turns 100 this year. That's right, "Anne of Green Gables" was first published in 1908. L.M. Montgomery, as the author was known, then went on to write seven more full-length books about Anne and her family. Later, Anne even became the subject of several movies and TV series.
In the first "Anne" book, the spunky girl is an 11-year-old orphan who accidentally ends up with Matthew and Marilla Cuthbert – a brother and sister who live in the imaginary town of Avonlea on Prince Edward Island in Canada. Matthew and Marilla planned to adopt a boy – someone to help with the farm work. Instead, they got Anne. And, like millions of readers, they fell in love with her – much to their surprise.
See, Anne talks too much. She daydreams when she should be washing the dishes. She hates her bright red hair so much that she even tries dyeing it. But she ends up with a color that's even worse – green.
---