A baseball fan's inner complexities
Being a fan isn't as simple as rooting for the home team.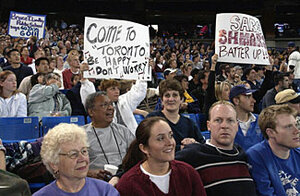 Aaron Harris
Personal sports-team allegiances are strange phenomena. And baseball-team loyalties are perhaps the strangest of all. For example, what makes someone in Miami a Seattle Mariners fan? Or why are there Boston Red Sox fans in every corner of the universe? And why is the world divided into Yankee-lovers and Yankee-haters?
I began exploring this issue the other day when I realized that, despite my Canadian residency, I didn't really care how the Toronto Blue Jays fared. Rationally, I should have been cheering for a Canadian team, but, emotionally, I had no commitment to the Jays.
A large part of my Blue Jay indifference is explained by my longstanding loyalty to birds of a different feather, the Baltimore Orioles. As a young boy growing up in northern New York State in the late 1950s and early '60s, I somehow developed a devotion to a team that was based hundreds of miles away. I'm not sure exactly how that came to be, but I think it had something to do with hating the Yankees and their football cousins, the New York Giants.
For years, I carefully listened to the faint signal of a Baltimore radio station that carried the voice of a young Chuck Thompson recording the ups and (mostly) downs of my Orioles.
---