Farewell to a favorite food product
Now that Milkman dry milk is no longer being made, walking the aisles of the grocery will seem lonelier.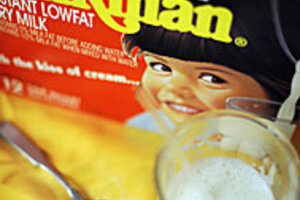 Sarah Beth Glicksteen/The Christian Science Monitor
My grocery shopping list recently got shorter. A product that I enjoyed nearly every day for more than two decades has gone out of existence. Sometimes these events create an uproar among consumers who feel they've been abandoned. Lots of news stories appeared during the past year lamenting the demise of Postum. I was never keen on the venerable cereal-based drink, but I now share the unhappiness felt by its fans.
The product that won my unswerving allegiance was Milkman Instant Lowfat Dry Milk. It came in an orange-colored box that was easy to spot on store shelves because it showed the face of a smiling brown-eyed girl looking eagerly at a tall glass filled with a taste treat.
That little girl was smiling for an excellent reason. Milkman had a more satisfying flavor than nonfat dry milk because it was made "with the kiss of cream." It's a slogan that will echo in my memory as I adjust to daily life without the trusty orange box in the kitchen cupboard.
I started using Milkman in the 1970s as an additive to hot beverages. It provided the milky enhancement I wanted without cooling the mixture. This is important for me because I'm a person who likes hot beverages to be served just slightly below the temperature of molten lava.
Milkman was introduced in the 1960s by Foremost Dairy of California, which later became Foremost-McKesson. In 1982 the company decided to sell the production plant. A group of investors took over the operation and formed a distribution firm called Familiar Foods, which kept the kiss of cream available to Milkman loyalists for 25 more years.
---