For kids: a different kind of gold medal
Nobel Prizes honor men and women who've made the world a better place.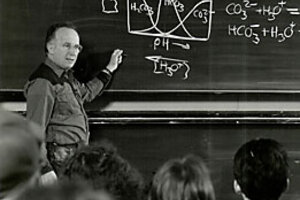 University Photography/Courtesy of the Division of Rare and Manuscript Collections/Cornell University Library
Roald Hoffmann can still recall the morning of Oct. 19, 1981, when an announcement came over the radio: He had just won the Nobel Prize for chemistry. "I was fixing my bike in the garage," the professor said from his office at Cornell University in Ithaca, N.Y. "My first thought was I had better call my mother before the phone starts ringing!"
Dr. Hoffmann won the award for using a set of mathematical rules, called quantum mechanics, to explain the nature of chemical reactions.
For most people, topics such as quantum mechanics probably won't arouse as much interest as, say, the Super Bowl or NASCAR racing. But for scientists with a passion for such things, the Nobel Prize announcements each October are an exciting time.
British scientist Frederick Sanger received news of his Nobel Prize win in 1958. Twenty-two years later, Dr. Sanger stunned the world and won a second Nobel Prize. Only three other people have been awarded the prestigious prize twice.
Dr. Sanger won his awards for work with proteins and nucleic acids, two classes of important compounds in cells. Today, the Wellcome Trust Sanger Institute in Cambridgeshire, England, is named in honor of Dr. Sanger and continues his research in molecular biology and genetics.
---