When a spirit of giving arrived on Halloween
As the evening wore on, my son grew more excited to be trick-or-treating for charity.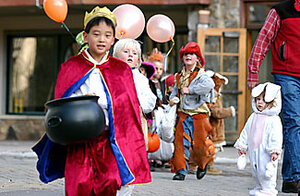 Vail Daily, Kira Horvath /AP/File
When my 10-year-old son, Jesse, spotted the orange Trick-or-Treat for UNICEF boxes on a table at our church, he snatched one. He had trick-or-treated for UNICEF the previous year and had been proud of the $20 he had collected.
But as he stood in his wicked-court-jester costume at our back door on Halloween night, candy bag in hand, he suddenly grumbled, "I don't want to trick or treat for UNICEF."
"Why?" I exclaimed, straightening up and leaving my shoe half tied. "Why would you not want to help needy kids get food and clean water and medicine?"
Jesse's chin – and voice – dropped. "Because it'll slow me down."
"Slow you down! We're talking about kids who don't have enough to eat, and all you can think about is candy."
"Fine, then. I'll do it." Jesse grabbed his collection box off the table and went outside, letting the door slam behind him.
I sighed and silently hurried after him.
Jesse approached our first neighbor's house, adjusting the rubber mask that hid all but his eyes. "Trick or treat," came his muffled voice when the door opened. He waited for his candy and then added in a small voice, "Trick or treat for UNICEF." He lifted his box a few inches.
"What? Oh. Let me look." Our neighbor's voice was flat, and I cringed. She disappeared back in her house for several minutes, and Jesse stood staring at the door, shifting from foot to foot until she reappeared with a donation.
At the next house our neighbor Wadi opened the door booming, "Hello, hello!"
"Trick or treat – and trick...."
"Look at you," Wadi laughed. "Scary." He shivered and handed Jesse his mounded candy bowl.
"And trick or treat for...."
---