Sidewalk stanzas
A public arts project in St. Paul, Minn., inscribes poems on neighborhood sidewalks.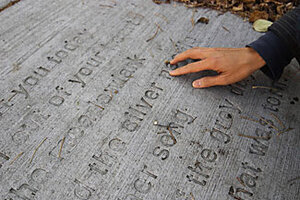 Sarah Beth Glicksteen/The Christian Science Monitor
On a damp day this fall, I drove with Marcus Young to Frogtown, a working-class neighborhood on the outskirts of downtown St. Paul. Mr. Young, who was born in Hong Kong and raised in Des Moines, Iowa, has spent the past year stamping oversized poems into cement across the city – a public arts project he calls, with something less than poetic flourish, "Everyday Poems for City Sidewalk."
The poems are scattered as far as Lake Como to the north and the Mississippi River to the west. But a single Frogtown street plays host to four, and we arrived around dusk, when the shadows were fattening.
"It's a universal thing," Young said, peering down at a pile of russet autumn leaves. "You see wet concrete, and you want to do something to it. You want to write your initials. All we've done is sanction that desire." He pushed aside the leaves, revealing "Second Love," a six-line poem by St. Paul resident Carlee Tressel.
Young read it aloud in a lilting, appreciative cadence:
He kissed the girl
in the ballerina skirt.
It was a long one –
like the kiss –
drenching her sneakers
in tulle.
I pointed out that someone had colored in the first few letters of the poem in crayon, and Young smiled. "It will be there for a good number of decades," he said. "If you're a kid growing up around here, maybe you ride your bike by and notice it and say, 'Let's meet near the poem.' Or, 'Let's use the poem for second base.' It gets folded into your life." He continued, "Or maybe there's a word, like tulle, which you don't know when you're in third grade. And then in eighth grade, you learn about the word, and you understand the poem in a different way."
---