Is slow food slowly changing?
Farmers and food artisans discuss the future of the slow food movement at the biennial Terra Madre.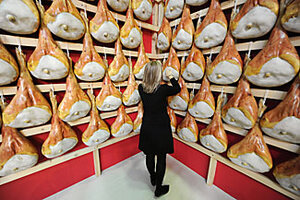 Giuseppe Cacace/AFP Photo/Newscom
Somewhere between the exquisite vial of 25-year-old balsamic vinegar, fermented in cherry wood, that Modena's Acetaia del Cristo sells for roughly $150 and the few dusty potatoes that Ann Petroni hawks on a blanket she brought with her from Burundi, lies the future of Slow Food, founded in 1989 to counteract the pernicious effects of fast food.
Along with vinegar and potatoes, the accomplishments and contradictions of the organization were also on display last month at Terra Madre, a biennial gathering that brings hundreds of small farmers and food artisans from around the globe to Turin, Italy, to exchange advice, share experiences, and display products they've lovingly grown or made. The convention is the main event on the Slow Food calendar.
While it is certainly a glorious celebration of sustainable agriculture and eating, Terra Madre also embodies many of the tensions inherent in Slow Food itself. As the looming global recession gave added punch to customary complaints of elitism, attendees alternated between promoting a progressive political agenda and gorging on fine-cured meats and pastries.
---