What was this holiday in November?
A Russian immigrant learns what American Thanksgiving is all about.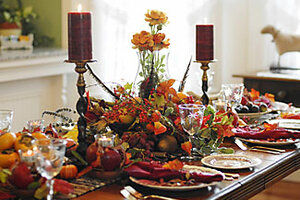 Newscom
"I'm not celebrating Thanksgiving."
"Why?"
"It's their holiday. I don't know what it's about. Besides, what's there to celebrate?"
I looked at the middle-aged Russian woman. She had settled in our town recently, and I hardly knew her. Yet, I knew her very well, for, reflected in her tired eyes, I saw myself many Thanksgivings ago.
Every time I heard the phone ring, I felt like dashing to the bedroom, covering my head with a pillow, and pretending that I was still in Moscow.
The honeymoon phase of immigration had passed – when the never-before-seen abundance of food sent me into a trance, and aisles of Wal-Mart clothes thrilled me as much as a field trip to Lenin's Mausoleum. But a new reality had set in – a nagging fear that I'd never make it in America and that bringing my young daughter here was the most irresponsible thing I had ever done.
The phone kept ringing. I picked it up, muttered, "I don't speak English," and immediately hung up. At night, it rang again, and my daughter, who knew some English, answered it.
"The Hermanns are inviting us over for Thanksgiving dinner," she translated.
"Thanksgiving? What's that?"
"A holiday."
"What's it about?"
"I'm not sure."
---