The humble football hero
More than a star athlete, Billy left a lifelong impression.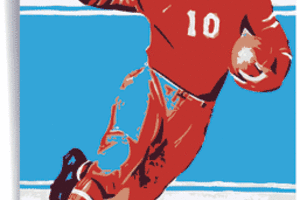 photo illustration: staff
Sports needs athletes who will ennoble sport, who will shape its integrity and its values, and give it substance over celebrity. I recall one athlete who handed down the integrity and values of a sport to me. And I'll never forget the last game he played.
On a cold and windy Thanksgiving Day in the fall of 1949. I was hurrying to the old football field up on the hill to watch the championship club football game between my Philadelphia neighborhood team, East Falls, and its crosstown rival, Frankford. There was a good crowd – maybe 300 to 350 – on hand for the game.
Club football thrived in big-city neighborhoods all around the country in the '30s and '40s, but nowhere as intense as in Philly, a city of neighborhoods where fealty to community was fierce. Football helped fashion our neighborhood, where the game, like the apple pies, was homemade. It helped to unite and hold the neighborhood together, just as church and family, picnics and block parties did. It was solid, changeless.
I was 8 years old, and I was the fortunate kid anointed to carry Billy's helmet on the walk from the locker room to the field.
Billy was the star halfback for East Falls and a legend in our neighborhood. An Irishman in the best sense of the word, he had pitch-black, wavy hair over a flawlessly chiseled, ruddy face, and deep, dark brown eyes that lighted up like polished pine wood.
As game time neared, Billy came over to me to get his helmet. "Thanks," he said as he popped it on his head. Then he winked at me, and added, "I'll try to score a touchdown for you today."
I felt as though I were in heaven. Billy was, by football standards, small, only 5 feet, 8 inches tall and weighing 155 pounds, but he was so fluid in his movements that he flowed like running water through a tackler's arms.
It was only a few minutes before the game would begin, and we were all excited. East Falls won the coin toss and elected to receive. During the first series, Billy took a handoff and burst up the middle of the field so fast that the defensive linemen became a blur. Once into the secondary, he adroitly avoided one defender, then head-faked another, and, looking like a Pygmy in the distance, crossed the goal line – a 72-yard romp. My little heart pounded like a noisy tin can.
---