For kids: A creative and cool class gift
Fifth-graders in St. Louis create art projects each year to brighten their school's hallways and grounds.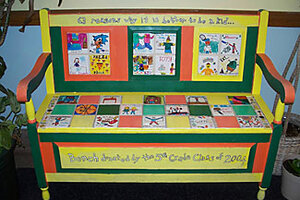 Jayne I. Hanlin
Have you ever returned to visit a school you used to attend? When former students of the Spoede Elementary School in St. Louis County, Mo., stop by, they usually first look at the large framed collection of their fifth-grade photos on display in the hall. Next on the agenda (or plan) is finding favorite former teachers and visiting with them.
Since 2000, however, students have something else to check out at their grade school alma mater (a school they once attended). That was the first year Jim Boland, the art teacher, had fifth-graders make a special art project to donate as a gift to beautify the school building and grounds.
The idea to display permanent art came from a parent who had two daughters at Spoede School that year. She had seen student wall murals brightening the entrances of other schools. In contrast, she thought the walls of her daughters' school looked bare when school was not in session. And she was right.
From September to June, Spoede teachers always displayed a great deal of colorful student work in their rooms and on nearby hall bulletin boards. But at the end of the year, students took their work home. So during summer vacation, the building appeared less inviting to visitors and new families walking into Spoede for the first time.
---