Sounds like Greek to me
The Greek language is far richer than French or Italian, but it's much more challenging to master.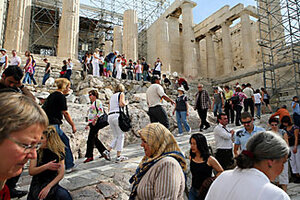 Melanie Stetson Freeman/Staff/File
Not long ago, I found myself on a long ocean voyage, traveling to three continents in 22 days, which meant that most of our time was spent at sea.
The fact that our ship had never before left the calm confines of the Mediterranean became immediately evident as soon as we hit the open water. The tiny thing shuddered its way down the coast of Spain and on to Africa before crawling across the Atlantic to Brazil.
I tried to read, but found it difficult and soon had a lot of free time. This led to my love affair with everything Greek – I'm talking about the language.
It all started with the gorgeous sounds emanating from our crew. Have you ever listened to spoken, modern Greek? It pearls right over you, far richer than French or Italian – the usual contenders for most lovely language.
Greek is a crocheted language, an afghan of sound: large bright squares of color covering you with their tonal warmth. It's soothing and energizing at the same time. I wanted to wrap my tongue around these sounds too. Ha!
You know that expression, "sounds like Greek to me?" Ever wonder why it isn't Polish or Arabic or Chinese, languages surely more difficult and even poorer in cognates? I mean, why Greek?
I soon found out.
Naively, I assumed that Greek would just nestle down comfortably among the English, German, French, and Italian I had already learned.
It couldn't be that bad, right? What about all those words we know derive from Greek?
---