A life without books? Unimaginable!
I didn't grow up in a library, but sometimes it felt that way.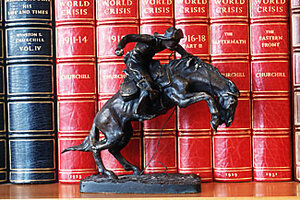 Melanie Stetson Freeman/Staff/File
"I should be doing a lot more reading." This thought flashes through my mind every time I sit down at my desk and stare at one entire wall that is lined with books. There's probably 150 feet of shelf space, entirely filled.
People who come downstairs where my desk is located usually make the same comment: "Wow! You've got a lot of books!" It's true, but not as many as I once had. The collection is just a fraction of its original size.
I didn't grow up in a library, but sometimes it felt that way. My parents met and married during World War II. Both were avid readers. In 1948, they settled into a large colonial-style home in the San Francisco Bay Area, and for the next 30 years a steady stream of books flowed into it.
If a major earthquake had struck during that period, it's possible that an avalanche of paper would have poured down from every direction.
It wasn't until about the fourth grade that I realized what a tremendous resource I had all around me. I was doing a report on the coelacanth, a prehistoric fish that was believed to be extinct until rediscovered in the early 1950s. An encyclopedia gave me the title of a book, "Old Fourlegs: the Story of the Coelcanth" by J.L.B. Smith, a scientist who played a key role in the hunt for a living specimen.
I asked my dad to drive me to the city library, but he said we didn't need to. Then he went and pulled a copy of "Old Fourlegs: the Story of the Coelcanth" from one of the shelves in the living room. I was astounded. It had never occurred to me that grown-ups would buy a book about an exotic fish for their own personal enrichment.
Reading habits can tell you a lot about someone's character and worldview. My dad was interested in almost everything: history, natural science, crime, biographies, mysteries, westerns, politics – there wasn't a genre he hadn't explored.
---
Follow Stories Like This
Get the Monitor stories you care about delivered to your inbox.