Without the stand, the tree wouldn't be the same
The best foundations, often left unseen, can still make mighty impressions.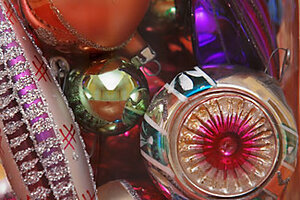 NEWSCOM
I know when people marvel at our Christmas tree, their eyes rarely, if ever, head directly to its absolute bottom.
First, its sheer size causes onlookers to lift their gaze to its surprisingly high angel-topped pinnacle.
"Is that tree 10 or 12 feet?" they ask of the artificial pine we bought at a department store during a sale in the late 1980s.
Then, the admirers continue with the queries: "Who does the ladder duty?" And, "How long does it take you to decorate that baby?"
We selected the tree because it was tall and spindly, meaning we would have the maximum possible hanging places for the ornament collection of our lifetime. The tree was also just the right size for the staircase area of the home it initially decorated. Since then, the tree has stood in two other houses, and much to our delight, it always seems to fit.
The donning of the eight strings of multicolored lights is probably the only time the tree hears harsh remarks uttered in her direction. I understand the popularity of the newer prelit models, but I have convinced myself our tree is a charmer because of her old-fashioned dazzle.
The ornaments adorning her are too numerous to count. We definitely have hundreds; most likely we have more than a thousand. Observers who scan the tree each admire a different delicate beauty. Among the most surprising, perhaps, are a Yankee Doodle, a pickle, a pineapple, a grandfather clock, a bumblebee, Olive Oyl, the Phantom of the Opera, and a table lamp.
Dad likes the ship-in-the-bottle ornament. Mom says the mini teakettle makes her think of how her mother treasured the dishware ornaments. My favorite is a bright orange smiley face. It reminds me of a special cup that I used to drink orange juice from during a sunshiny family vacation in Florida when I was a little girl.
By the time the pine masterpiece is fully trimmed, it is weighted with glass baubles and priceless memories.
---