A surprising path to inner peace
A Jewish woman finds pure joy while visiting an Irish abbey.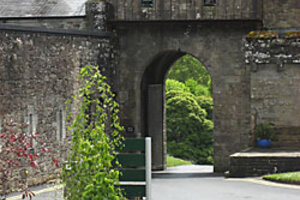 Margie Goldsmith
The 20 robe-clad monks of Glenstal Abbey, a Benedictine monastery in County Limerick, Ireland, stared at me from behind the altar. Everyone else had gotten up to take communion, and I was the only one still in the pew. I wanted to hold up a sign that read, "No offense, I'm Jewish."
I stared up at the modern stained-glass windows. The organ had bright blue and green pipes, the walls were magenta, and the ceiling was red and green – not at all what I had expected for the monastic life. The rest of the complex looked like a 12th-century castle.
I'd come here as a retreat from my stressful, overprogrammed Manhattan lifestyle, hoping for a few days of no e-mail, no phone, and no deadlines. My plan was to do nothing but wander the 500 acres of woodland paths and listen to the monks chant.
Since 1927, Benedictine monks have lived here, assembling five times a day for prayer and chanting. They claim that this 7,500-year-old area has kept its relationship with the divine and that this can be felt the moment you walk through the gates – something I would do many times because I was staying in a small bed-and-breakfast outside the back gate. And every time I entered the grounds, my thoughts slowed down.
The one-mile walk from the gate to the abbey was lined with blooming rhododendrons, towering trees, and a grazing donkey family. Whenever I walked by, the baby donkey seemed to smile, especially if I sang, which I usually did; and because I was in a religious setting, I always sang the Hallelujah chorus from Handel's "Messiah," wondering if the donkeys knew that hallelujah is a Hebrew word.
---