For kids: School of rock 'n' roll
Music lessons at this school include rocking out onstage with a band.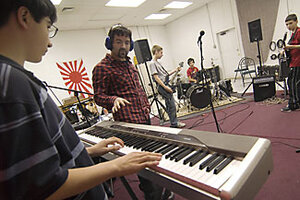 Sarah Beth Glicksteen/The Christian Science Monitor
While many kids play sports or join the school newspaper, some kids simply prefer to amp up the volume. In Watertown, Mass., every week after school, 67 kids head to a practice space covered in hip posters of the Who, the Beatles, and the Doors to practice tunes such as Journey's "Don't Stop Believin' " and Queen's "Somebody to Love." Forget warbling trumpets and squeaky violins. These kids are here to rock!
At the Paul Green School of Rock Music, students ages 7 to 18 learn basic music skills and theory, but they also learn how to play for an audience. Becoming more comfortable on stage is an important part of the program, and while most music schools often focus on classical theory and scales, this school takes things one step further.
At the end of the 12- to 16-week program, the budding rock stars will show Mom and Dad what they've learned by playing live at a local music venue complete with fog, lights, and onstage gusto.
"Most music schools are like being on a baseball team [and] practicing but never playing games... [W]hen you're in front of a live audience, it makes all the difference," says Paul Green, the rock school's president and founder.
Aspiring rockers can enroll in any of the three semesters throughout the year. Students can learn how to play the keyboard, guitar, drums, or bass, and take voice instruction. Every week, students participate in a 45-minute lesson and a three-hour group rehearsal. The school also offers summer camp sessions where students get lessons in recording their own music and marketing. Last summer, students at the school came up with their own band names and made T-shirts and fliers.
---