The Wright house for our family
Clutter-free, natural spaces fit perfectly with our next chapter.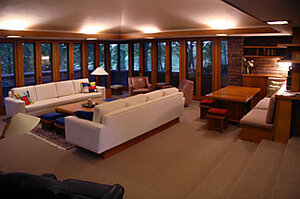 Courtesy of Douglas LaFerle
Throughout our 28 years of marriage, my architect-husband and I have usually purchased houses that are older than we are.
Our first house, the 1945 brick-and-stone cottage we bought as newlyweds, was the first of two fixer-uppers we owned before our only child was born. Six years later, we moved with our son to a brooding 1920s English Tudor with drafty leaded-glass windows. We stayed rooted in suburban Detroit, and happily renovated or repaired vintage kitchens, crumbling plaster, haunted basements, and antique toilets.
But after our son graduated college and our nest was emptied last summer, the two of us started thinking. Maybe it was time to track down a low-maintenance ranch – or a small beach house – that would coast us through our retirement.
That's when we stumbled on a Frank Lloyd Wright house that needed us.
As every old-house lover knows, just when you think you're in complete control of your real estate plan, the house you didn't plan on buying will choose you. It will charm you, keep you awake at night, and take your financial adviser by surprise. And there will be no turning back.
The Wright house we discovered was designed for industrialist Carl Schultz in 1957, representing the architect's final mark in western Michigan before his death in 1959. The house, overlooking a wooded ravine in St. Joseph, was surprisingly affordable for a Wright house – and even came with some of its original Wright-designed furniture.
---