A new law hurts small toy stores and toymakers
New regulations banning harmful chemicals in children's items has had unintended consequences for small businesses and crafters.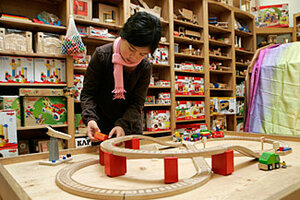 Marcio Jose Sanchez/AP
Amy Turn Sharp started making toys because of Thomas the Tank Engine. The 2007 recall of wooden trains with lead paint inspired Ms. Turn Sharp and her husband, a master carpenter, to start making wooden toys for babies.
"It's really just Joseph and me in our backyard. No machinery, no workers," says Turn Sharp, whose toymaking business, Little Alouette, makes it feasible for her to stay home with her two children. (Making toys is a family affair: Their 4-1/2 year-old son likes to help rub organic flaxseed into the finished wood teethers, blocks, and trains.) The Worthington, Ohio, couple make all their products from maple, felled by a neighboring farmer. "It's just us producing things by hand."
But now fallout from the recall that got them started and others may very well close them down. "We started our company because of Thomas the Tank Engine. We were sick of unsafe toys," says Turn Sharp. "And here we are, and we're going to go out of business because of unsafe toys."
After the recall of millions of toys manufactured in China in 2007, Congress passed the Consumer Products Safety Improvement Act (CPSIA) last year to protect children from lead and phthalates. Under the new guidelines, which are set to take effect Feb. 10, any product manufactured for children under 12 must undergo third-party testing for certification.
The law isn't just for toys, stress critics, who say it is too sweeping and will unfairly impact small businesses. Clothing, backpacks, bicycles, books, science equipment – anything intended for a child under 12 is affected. They argue that the law, however well-intentioned, has the potential to cause thousands of small US businesses to close at a time when unemployment is surging and the country is entering its second year of recession.
---