Who is this man?
The actor who's been called the sexiest man alive isn't a familiar face in an Indian city known for its moviemaking.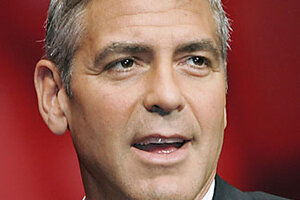 YURIKO NAKAO/REUTERS
I live in Salem – Salem, India, not Salem, Mass.
Almost every day in this city of approximately 800,000 people, we have two-hour blackouts because power plants fail to function at their full capacity due to the monsoons.
During these blackouts, our family gathers in the living room and we quiz one another on various topics. Since my family and others living in Salem don't know much about Hollywood celebrities, I usually quiz them on this topic. One day, when it was my turn to pose a question, I asked, "Who is George Clooney?"
I expected silence, but I wasn't prepared for the wrong answers that came my way.
"He must be an educator. I'm right, aren't I?" said my mother, beaming.
She was referring to Cluny School, an all-girls school run by nuns and a famous landmark in Salem.
"That makes sense, but it is run by nuns. Maybe he was a priest who founded the school?" my father said hesitantly.
Father George Clooney – the founder of the famous all-girls school in Salem? I thought of the adjectives typically used to describe the actor – sexy, charming, handsome – and burst out laughing.
"No, he isn't a priest or an educator," I said.
"I don't know, but if I have to guess, he must be a doctor – the one who discovered cloning?" My mother's elder sister, Manonmani Aunty, volunteered.
"Wrong, aunty."
"Was he a scientist then?" she asked.
"No, aunty."
"I've never heard of him," said my "cousin sister."
The others remained silent.
"He is a Hollywood actor," I said triumphantly.
I picked up the newspaper lying on the desk, which displayed his photo, and showed it to everyone.
---