A presidential reading quest
A father's goal to read a biography of every president helps enrich his family's knowledge.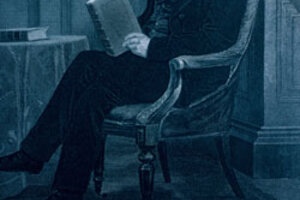 Newscom
Call him crazy. Call him determined. Just don't try calling my husband away from his latest book. No, it's not a Stephen King thriller or even the final Harry Potter adventure. It's another presidential biography – Millard Fillmore – the latest in my spouse's quest to read a book about each and every US president.
Why would my mathematically minded husband – the one with the chemical engineering degree – suddenly take a fancy to history?
"It is important to study the past," he informed me as we cleared the dinner dishes one evening. "I always wanted to take more history courses, anyway."
After dinner, he flops down in his usual pose, legs outstretched on the couch with his nose deep in presidential politics.
"Daddy's reading about the presidents again," my youngest daughter comments.
"How many books does he have to read?" her sister asks, like this is some type of class assignment.
While the girls take their baths, he reads a chapter or two. He helps tuck the kids into bed, then hurries downstairs, with a book in hand. For the next hour or so, my beloved is lost in history. I cozy up next to him, enjoying the quiet nighttime stillness as I peruse my magazines and catalogs. The television, feeling neglected, sits idly, gathering dust.
---