For kids: A board game with a peaceful resolution
Students solve conflicts and learn how to cooperate as world leaders.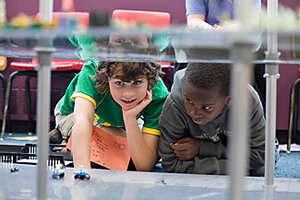 Will May
Twenty-six fourth-graders walk into their classroom in Charlottesville, Va., to play the World Peace Game. When they enter, they know their own neighborhood, their school, and certain places in their hometown. By the time they walk out, they are on their way to becoming citizens of the world.
The game begins quietly, with the ring of a silver bell. Students take their seats around a 3-D structure – four layers of clear Plexiglas stacked four feet high to represent water, land, sky, and space. Each layer is divided into four parts and dotted with movable miniature ships, submarines, troops, planes, satellites, and energy reserves.
Teams of leaders from four nations – Verde, Tiger's Eye, Ushia, and Magnopolis – take their seats around the board. Their teacher, John Hunter, hands out crisis reports on the state of the world. Over the next few weeks, a group of 25 to 30 players will handle problems that include war, a shaky economy, natural disasters, poverty, and climate change.
Everyone has a role, such as prime minister, secretary of state, secretary of the treasury, secretary of defense. Some are members of the United Nations and the World Bank.
Throughout the game, some players draw cards that announce earthquakes, floods, tornadoes, and other random events. Cards drawn from another deck report financial losses and gains.
All four countries begin the game in conflict with one another. Mr. Hunter rings the bell again to begin negotiations, and teams go into noisy huddles to plan their moves.
---