A tree as old as Honest Abe
Two hundred years later, this tree stands tall, just like Lincoln's legacy.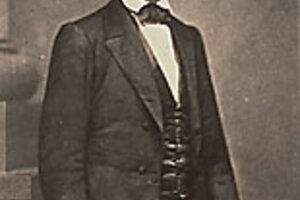 MATTHEW BRADY/NATIONAL PORTRAIT GALLERY/AP
Yesterday marked Abraham Lincoln's 200th birthday. The nation celebrated with speeches and songs to commemorate the remarkable life of our 16th president. But in my neighborhood, the festivities extended to honor another historic figure.
In a section of New Jersey's woods stands a tall, majestic poplar tree perched on top of rocky cliffs above the Hudson River. Near the bottom of its trunk hangs a sign that reads, "This tree took root the year that Lincoln was born: 1809."
I pass the poplar tree often on hikes up a hilly trail, and crane my head toward its top – more than a hundred feet from the ground. Its trunk is way too wide for me to wrap my arms around.
In the winter, big, bare branches stand out starkly against a gray or azure sky, like boldly etched pen-and-ink designs. Sometimes, when it snows, the tree is swathed in white with a glassy glaze. Then, when spring arrives, broad, squarish leaves emerge, followed soon by tuliplike flowers in subtle shades of orange, yellow, and the lightest green.
But no matter the season, weather, or world events, the poplar has stood stalwart while 200 years of history happened.
These double centuries are, indeed, replete with history: economic and political upheavals, medical and scientific breakthroughs, wars and terrorist attacks, tremendous technological advances, and 28 subsequent presidents – peaceful intervals interspersed between tempest-torn times.
Nature also alternates between tranquility and raging storms.
The poplar tree has often been bombarded and attacked by ice and snow, and torrential winds and rain. Some summers it is scorched by unrelenting heat and drought.
On a stormy winter day, I went out into the woods and watched the poplar's branches gyrating with the wind.
"That is why most of them do not break," a fellow hiker explained to me. "Because of their flexibility, they bend along with the wind rather than resisting it."
---