Defender of quiet places
Acoustic ecologist Gordon Hempton says natural sounds are disappearing.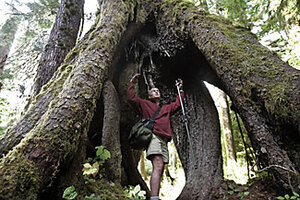 Elaine Thompson/ap
I checked in with Gordon Hempton the other day. The adventurer answered his cellphone while shoveling gravel outside his Washington State home. I was fortunate. Mr. Hempton is frequently off in the wilderness, recording pristine sounds of the natural world. You may have heard his soundtracks of rain forests dripping, surf crashing, streams burbling, frogs croaking, birds trilling, and so on. The self-described "sound tracker" is an activist in defense of Earth's ambience, which Hempton says is disappearing faster than it can be preserved. Why? We simply make too much noise.
"Quiet is going extinct," laments the acoustic ecologist, a fancy title for an expert on the environment of sound. In the background, I hear the grating of stones against metal.
I wonder about unwanted racket in the West. Even where I live, in small-town New Mexico, things seem noisier than they did only a decade ago. "Have you followed up on your 1998 survey?" I ask.
The shoveling stops.
"Nah," Hempton replies, an edge of disappointment in his mellifluous voice. "Conditions were bad everywhere I went, including parks and wilderness areas. I knew I would never make that trip again."
Ten years ago, the man with the ultra-sensitive microphone toured 15 states. "I looped from the Pacific Northwest down to Arizona," Hempton recalls, "then through the Rockies and into the northern Midwest." During daylight only two locations – remote parts of Colorado and Minnesota – were reliably free of such distractions as car engines, jet planes, chain saws, and gunfire. Even Yellowstone National Park and the Grand Canyon suffered from the whine of machinery, whump-whump of helicopters, and drone of distant traffic. Taping a quarter-hour of undisturbed natural ambience was almost impossible.
---