A store that's stood the test of time
Crane's Country Store in Williamsburg, Mo., has been selling everything from farming supplies to groceries since 1926.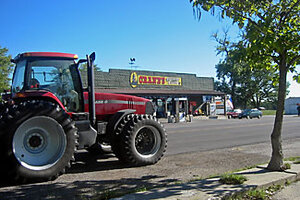 Jim Winnerman
The six-word lunch menu at Crane's Country Store in tiny rural Williamsburg, Mo., (pop. 99) has not varied in more than 70 years. It remains "one meat, one cheese, one dollar." The bargain sandwich is prepared and served as many as 200 times a day by the busy clerk working at the sole cash register in the center of the store. Customers have a choice of 18 different meats and 12 different cheeses on their sandwich.
But Crane's isn't just a quick lunch spot. The next person in line may be buying a cattle trough or a box of cereal. This is one of only a few authentic country stores in America, and it attracts a broad base of loyal customers with a varied line of country merchandise and personal service.
"We offer just enough to get you going," says David Crane, who owns and operates the stores with his father, Joe. He's referring to a small selection of groceries and a large assortment of work clothes, knives, farm gates, hunting supplies, and an inventory of two or three items of just about anything someone may need once every few years.
A first-time visitor to Crane's might notice that some customers leave without paying. That's because "regulars" may opt to have their purchases added to an ongoing tally that's kept in a cubbyhole behind the cash register. No statements are mailed and no reminders are sent. When a customer is ready to settle an account – every other month, twice a year, or however often is convenient – he inquires what the total is, and pays. No interest is charged.
---