For kids: Look at those lemurs!
Far from Madagascar, these primates find a home in the US.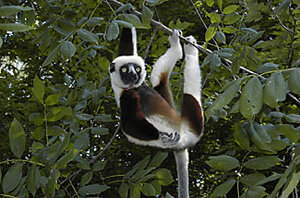 Courtesy of David Haring/Duke University
Perhaps you know that North Carolina is the birthplace of several US presidents. Or maybe you've heard that it's the state where the Wright Brothers first took to the skies in the early 1900s. But did you know it's also home to the largest collection of lemurs outside Madagascar?
Tucked away in a shady, southeastern corner of the 7,000-acre Duke Forest, lies one of the best kept animal reserve secrets. Here, over 200 lemurs live at the Duke Lemur Center, located on 85 acres on the campus of Duke University, in Durham, N.C.
Far from home
Sporting their characteristic big, round eyes, lemurs are frisky ancient relatives of monkeys and apes, and belong to a separate group of primates called prosimians.
In the wild, they normally live far away from the United States, on the island of Madagascar, which is located about 250 miles from the southeast coast of Africa.
Duke obtained a small group of lemurs from Yale University in the 1960s, says Anne Yoder, director of the Lemur Center. Since then, the population has grown and is now home to babies and grandbabies from the original colony.
"Originally, they were studied for their behavior," says Dr. Yoder.
But now, the center strives to do more. One of the key missions is to help protect lemurs from becoming extinct, or disappearing from the animal kingdom.
---