NJ city: surprising leader in affordable housing
Trenton's ambitious program shows promise in turning around inner-city areas.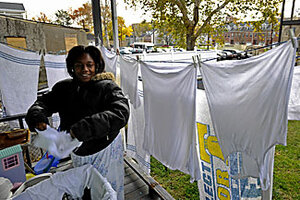 Ann Hermes/The Christian Science Monitor
Nathan Mayfield is an unlikely savior of inner-city Trenton. A former troublemaker from the wrong part of town, he used to think that saving himself meant leaving his shrinking, dying city. But when his dad became ill, and he realized that leaving wasn't an option, the young school guidance counselor found himself buying a new house two years ago in an area long famous for drugs, violence, and race riots. He couldn't be happier.
"It's like something in a cocoon that, after a struggle, becomes a butterfly," Mr. Mayfield says of Canal Banks, now lined with newly constructed homes.
He harbors dreams of dental school, but while the country endures economic meltdown, he plans to stay put. "This city has a lot of potential, and a part of the city reaching that potential is [by] making sure there is no exodus from the city," he says.
The Canal Banks transformation was a long time coming. For the past 12 years, this section of Trenton has been ground zero for one of the most ambitious federal affordable housing programs in decades. The experiment is just now coming to completion here, reviving debate over what it will take to revitalize troubled neighborhoods at a time when cities have been chastened by job losses and skyrocketing foreclosures.
The idea to rescue Canal Banks and 10 other unstable areas nationwide relies on an idea – homeownership – that now might seem almost quaint, if not misguided. The Homeownership Zone (HOZ) demonstration program, launched in 1996 by the US Department of Housing and Urban Development, has tried to turn entire neighborhoods around by flooding small, poverty-stricken areas with hundreds of new homes to be purchased by working-class, mostly first-time home buyers.
---